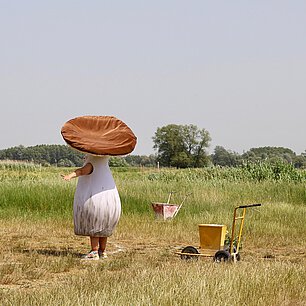 RADIX #1, @Kulturhafen Groß-Neuendorf, 19th June 2022, noon
Groß Neuendorf was given away on 3 January 1349.
Since then, it is no longer a Slavic settlement, but a German village with a predominantly Christian, but also Jewish history.
apparatus takes the date of the donation as an occasion for a rehearsal of planetary theatre: What does the radix look like that astrology draws in the sky for this moment? What are the roots of the donation and what are the consequences of colonization of the Oder delta to this day?
Planetary theatre is radically local. It realizes a constellation of human and non-human bodies for such a public.
apparatus tries new narratives, the elastic material behavior of earth, of which we are a part, against the artificial separation of nature and culture. apparatus approaches this field with mushrooms, paints and stones, interprets them, literally, as an image on and with the earth.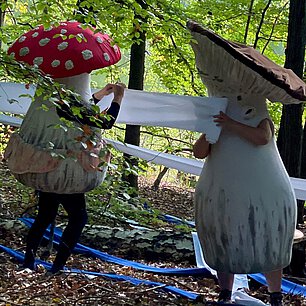 On 2.7.1753 the so-called Oder breakthrough took place. Since then, the Oder has flowed far away from the towns of Bad Freienwalde and Wriezen, far away from its former railway in a newly constructed bed. The Oderbruch was drained, moorland destroyed in order to be able to operate. Wendish culture in this pine delta was destroyed, a rich fish landscape destroyed. According to legend, the Odernixe moved to the Baasee on this occasion. There apparatus laid out the radix of the Oder piercing and stretched it between trees.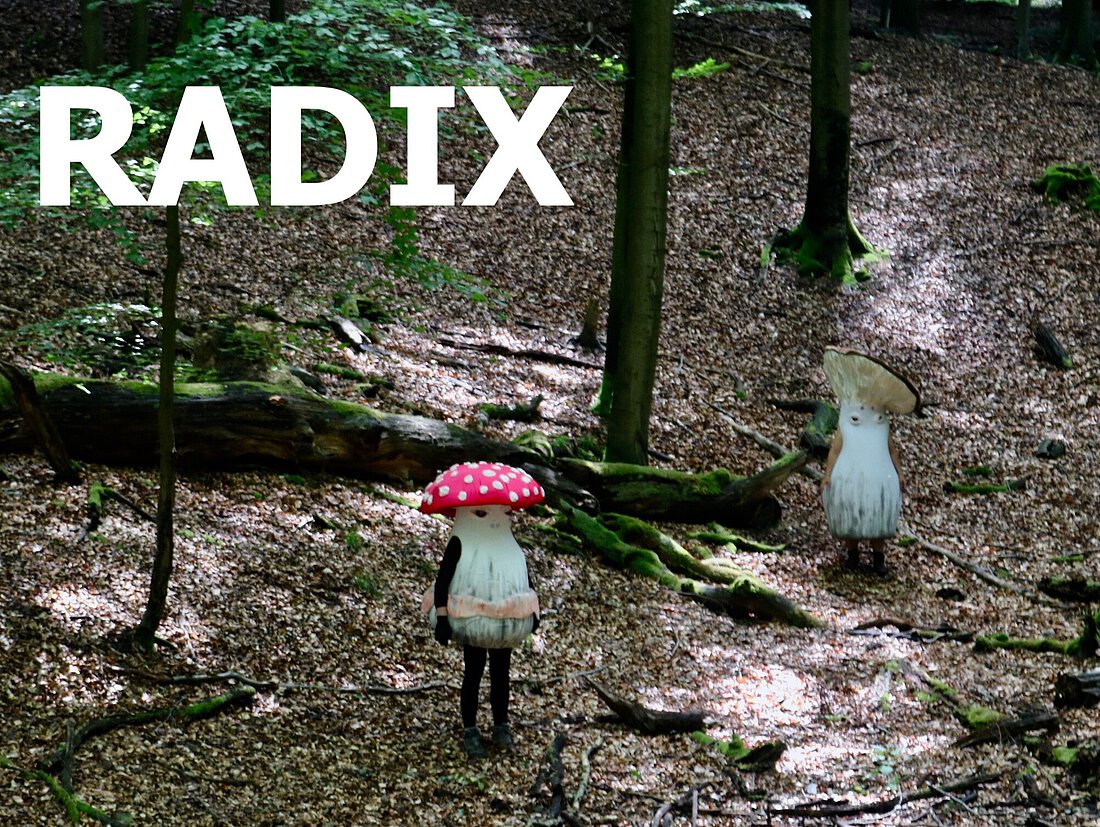 RADIX#3, @Lenné Park Kurklinik Bad Freienwalde, 11th Dezember 2022, 4 pm
Franz Carl Achard was born on 28.4.1753 in Berlin. As an opponent of slavery, he succeeded in extracting sugar from the turnip. He is also responsible for the detection of humic acid. Humic acids are effective in mud spas, which have been used since ancient times. The earth heals, the fermentation process that takes place in moorland areas has a healing effect on the human organism., Paracelsus already knew that Moors are gigantic carbon reservoirs, they have healing effects on the climate that people need on earth.
On 11.12.22 from 4 pm apparatus lays out the birth radius of Achard at the spa clinic in Lenné Park Bad Freienwaldes. We illuminate the planets, we play the gong and dance our way through the connections of the constellations.
An invitation to this performance with light, sound and mushrooms!